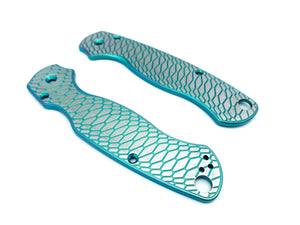 Titanium Scales for Spyderco Paramilitary 2 Hexi - Right Hand Tip Up Carry
Made out of grade 5 titanium. The handle offers an excellent combination of high strength and toughness over the stock G10. The scales are machined with lots of attention to details with hard edges chamfered and hand-sanded for a smooth finish. The scales weigh about 4.6 oz with the knife. 
Made out of grade 5 titanium, knife and hardware not included. Please allow 3-5 business days to process. Please message me for left-hand carry.
Great scales, texture, and fit
The fit and finish of these with the 15V model is amazing. Love the texture, just like the set I have for the Manix 2. Would highly recommend, and but again in the future.
Only thing that would make it better is if the graphite finish could be offered again
Fantastic
I have the great pleasure of owning all 3 scales and the critter imho is a hair heaver & heaver, I also had to procure slightly longer screws for my deep pocket clip. Regardless the scales are absolutely stunning and my favorite texture of all 3 scales. Made in America by a badass American
Best titanium scales
This is my 4 set of scales , better than fllytanium , this are the best scales on the market , highly recommended.
PM2 standard ti
I could not be happier. Great fit and finish, I would highly recommend them for your Titanium fix. The only concern is due to the thicker ti compared to stock pm2 g10, I think you would need to buy longer fasteners. Did not see it as a recommendation on the site. I just made sure not to tighten the stock fasters too tight, Id hate to strip anything. But overall, I'd highly recommend over others. Thank you.
Sublime
These scales absolutely transformed the classic PM2. You can feel the quality in your hands. Machined perfectly, not a single imperfection anywhere. It's honestly almost unbelievable how good these are. The only downside is that now this knife is so pretty I'm scared to use it, so it hangs out as a safe queen while I punish the others, but in the end I'm OK with that. This is a work of art and I'm fine with just admiring it. Worth every damn penny.